Script'17 Roundup
It's already more than two weeks since Script'17 - our idea of a JavaScript conference - took place in Linz, Austria.
Preparations
Preparations for this event started almost a year ago when Stefan and I sat together at a craft beer bar, planning the year for Stahlstadt.js and talking about what kind of event would be cool to have in Linz. Linz - a city with an eventful history which is converting from an industrial hub into a place for creative and digital professionals.
After the initial excitement, research began on how to create an event worth visiting and how to make it a reality. One thing that was clear from the beginning was that we wouldn't compromise on content, food and drinks. The task of recruiting speakers was easier than expected. We knew most of our speakers form personal or semi-personal relations and none of our 7 guests hesitated when we invited them to have a fun afternoon together.
The search for a location
In April we started to scout for locations. The variety for proper locations in Linz that are able to host between 100 and 300 people is not too big but it still took some time to visit all of them, get an estimate and figure out how the setup could look like. At the end, the selection was not too hard because we immediately liked the Central. Notably, it is the place where the Austrian civil war started in 1934 and I watched one of my first movies - 2D/low definition - in a cinema around 1990.
Right next to the perfect location for the event we found the ideal partner for catering. The crew from Cafe Central was the backbone of the event, working hard to serve delicious food, tasty cake, cool drinks and freshly made coffee during the afternoon into the night.
With a little help from our friends
As Script'17 was born out of a meetup we felt very strongly about inviting the Austrian JavaScript meetup scene. A huge shoutout to everyone from Technologieplauscherl, Vienna.JS, Graz.js, Salzburg Web Dev, Angular Vienna, Webclerks, and Stahlstadt.js who have come to Linz to bring the meetup spirit to Script'17. Guess how surprised we were that that the event was sold out 3 weeks in advance!
Only weeks before the event we got a helping hand our friends at Fredmansky. They offered to take off the rough edges and bring a little bit more style to Script'17. The resulting introduction videos were astonishing. In cooperation with Die Socialisten they were also able to create a stunning social media wall for entertainment during the breaks.
Thank you
Script'17 was a side-project for us and the last two weeks for example were a mix of deploying new infrastructure for Ghost(Pro) and book keeping for Script'17 for me. Stefan was preparing and holding workshops for Dynatrace Perform and working hard on getting everything in place to publish our speaker videos. So we are extremely excited that the event was received that well!
We are very grateful that so many of you came to Script'17! We were able to welcome 200 JavaScript fanatics from all over Austria, Germany, Switzerland, Czech Republic, Hungary, Norway, Italy and the U.K. One of the most exciting things was that the hashtag #scriptconf was trending for more than 6 hours on Twitter. Thank you all for coming!
Another big THANK YOU goes out to our sponsors who supported us making the conference a reality and helped us serve coffee ☕️ (epunkt), dinner 🍗 (Karriere.at) and have a great afterparty 🍺 (Usersnap).
Last but not least we also want to thank everyone who made this event happen behind the scenes! We are looking at you, Thomas 🔊, Pinky 📸, Sascha 📽, Chris 🎥 and Elli 💁🏻!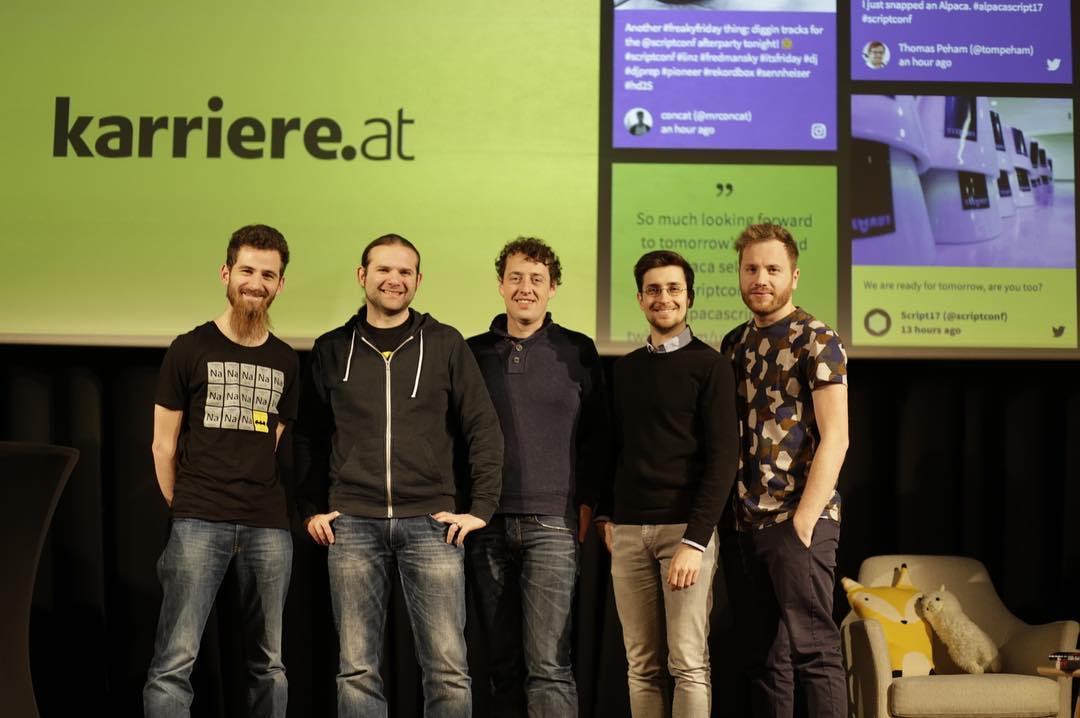 Speakers
The most important ingredient for Script'17 was our speaker lineup! We are extremely thankful that all of our speakers took the time to travel to Linz, spent a Friday with us and held an outstanding talk! We are still overwhelmed by the interesting content, funny anecdotes, openness and live coding skills that were shown on stage!
I've made a list here on purpose 😉 . As soon as the videos are ready, every speaker gets their own page with video and slides.
Coverage
With this post, we would like to collect everything about Script'17 that was written and also all the coverage like photos, podcasts, ... If you have written about the event or made sketchnotes, did a photo collection or anything like this, please let us know and we're happy to add it.
Blog posts
Photos
Podcasts
Tweets with ❤️ (full stream: #scriptconf)
First conference this year set the bar veeery high! Congrats to #scriptconf for doing such a great job!! @scriptconf 🎈🎉🦄

— Eva Lettner (@eva_trostlos) January 28, 2017
@ddprrt @sebgie @scriptconf Thanks again for the awesome event. Hope to see you all next year at ScriptConf'18 🎉 #scriptconf

— Marco Biedermann (@m412c0b) January 29, 2017
Earned its space. #scriptconf pic.twitter.com/SzDabh2mbH

— Chris Heilmann (@codepo8) January 28, 2017
I am so happy that I could attend the #scriptconf. 😄 Thank you so much! Sadly my battery ran out and I could not take more pics. 😕 pic.twitter.com/6cbxYcWHAB

— Alex G. (@alexluxem) January 28, 2017
It's been truly great to feel so welcome at a conference, too. Other confs in Austria: there's a lot you can learn from #scriptconf ❤ /4

— Laura (@alicetragedy) January 28, 2017
On my way back to Frankfurt from an awesome #scriptconf in Linz 🇦🇹! See you next year! Thanks to everyone who made @scriptconf a thing!

— Markus Tacker 🏢🔨 (@coderbyheart) January 28, 2017
"The cake isn't a lie." At a coding conference with cake, it was only a matter of time until someone went there. #scriptconf

— Nemica (@NemicaTS) January 27, 2017
Stay informed
We are in the process of cutting and polishing the Videos. You can either watch this space, sign up to our newsletter or subscribe to our YouTube channel to get them as soon as we release them.
Thank you all for coming and stay tuned for what comes next (hint: that's easier if you sign up for our newsletter or follow us on Twitter 😉 ).
Stefan & Sebastian!
If you're interested in updates to Script and are eager for what comes next, you can sign up for our newsletter. Updates are once a month max, promise!